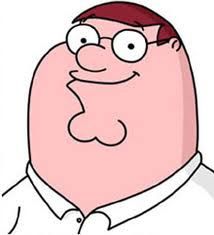 Peter Griffin, from the critically acclaimed sitcom Family Guy has struggled with alcoholism since he greeted our stage in 1998 when the show was first aired. In this article we are going to look into where his drink problem began, analysing his background, behaviour and history. By the end of the article we should understand Peter in a new light, on and off air and try to bring new light to Fox's answer to Charlie Sheen.
Peter Griffin plays the role as himself in the critically acclaimed series Family Guy. The show focuses on the trials and tribulations of the Griffin Family and was written for the cast, drawing from real problems in the actors lives and taking method acting to a new level, winning the actors and the shows creator, Seth McFarlane, numerous awards and nominations. Peter's alcoholism has been used for comedic value within the show however we want to look past the satirical aspects of his inebriated behaviour and into the causes behind it. After interviewing the writers of the show Family Guy we received this statement: " Peters alcoholism was not created for the show we do not use it to better our ratings in any way, we fully support any attempt for Peter to get clean and everyone at Family Guy will be happy to see him sober" – Seth McFarlane
So next we need to look in the possible causes of Peter Griffins Drink problem. We have to understand that for his IQ and appearance he should statistically be with someone a lot less attractive that Louis (his wife on and off stage) telling us that he is not drinking because he is unhappy with superficial aspects of his marriage He has also been blessed 3 children, Meg, Chris and Stewie, studies show that the typical middle aged male in Peters weight bracket would have sever impotence problems, telling us that Peter is not in fact drinking because he is unhappy about the size of his family or carrying on the griffin name. When we look into Peter's career history as well we understand that he has had no real issues with unemployment and has sustained long term jobs at the brewery as well as the toy factory in his local area. When analysing Peter Griffins career choices in the Family Guy series we understand that peter has been experimental with his choice of workplace and have lived life both poor and rich. Therefore we can reasonably justify that his alcoholism isn't down to dissatisfaction in the workplace or feelings of underachievement. There are some great episodes of Family Guy where you can see Peter Griffin in this manner, the best websites are where you can watch family guy online, << such as this one you should check them out!
Therefore when acknowledging that there are no initial reasons for his severe drink problem we have to look outside the box. As we all know there has been a long-term feud between Peter and Homer Simpson from the hit TV show the Simpsons. The Feud started when Homer allegedly accused Family Guy of stealing the original Idea from Fox's first successful animated sitcom as well as publically accusing Peter Griffin of taking his acting style, via twitter: "@petergriffin we all know that I'm the original Peter Griffin, why don't you come down to Moe's and we'll see who the real drinker is" Peter Retaliated with "@homerjsimpson just watch family guy and see who the real drinker is. My liver is as blue as Marge's hair and I can still drink you under the table"
Therefore we can come to the conclusion after analysing Peter griffins general life on and off screen, the real reason for his alcoholism is nothing to do with his family, friends, income or mental health but actually because of Homer Simpsons refusal to let the limelight, or should we say lemon light, be on Family Guy and Peter Griffin.